Phase II
Having completed our Phase I mission to Standing Rock. We successfully delivered a dome, teepees, stoves and developed trusted relationships between Red Lightning and the Standing Rock organizers. The protectors at Standing Rock are preparing to camp throughout the freezing Winter and will need all the supplies they can get to contend with the harsh climate.
With the critical feedback we received on the ground there of what is needed for the Camps this winter, we are now in the process of preparing our Phase II mission to Standing Rock. This mission will include delivering more teepees, food, clothes, stoves and setting up a Red Lightning village with the intention to:
Raise awareness, secure media attention, and provide more support to the Stand Rock community
Build winter warm shelter and sanctuary for day/night time gatherings
Create space for speakers, performances, prayer and ceremony for the camps
Power the camp with Solar Power energy
Provide tents and teepees for guests such as journalists, celebrities, performers and members of Red Lightning or other Burning Man camps coming to visit/work at Standing Rock
We are creating a small village that will provide shelter from the wind/rain/snow.
44ft Lightning Dome w/smaller dome interlock entry dome;
Solar Power from a mobile solar generator with battery storage and diesel back-up;
24/7 electricity
Indoor and outdoor lighting;
Community and guest tipis;
Guest Kodiak tents/Shift Pods
Phase II RL Village Layout
Solar + Wind + Battery Power System
Red Lightning Village is powered by a Solar-Battery mobile generator with Diesel back providing 24/7 power. Also provides LED exterior lighting to the village area. Powering the village with solar shows energy independence is possible and powerful symbol vs DAPL.
Powered by Solar with Battery Storage and Diesel Back up
Produces clean uninterrupted power
Capable of running 24 hours/day with or without sun
Zero noise or emissions
86K lumens of light coverage area up to 6 acres
As winter comes to standing rock, the Lightning Dome provides a warm gathering place and shelter from the harsh elements. The dome is heated with electric heaters providing quiet warmth powered by the solar generator in combination with wood heating stoves.
A combination of 6 hanging Infrared Heaters and a circulating fan will heat the dome with Sun Power from the Solar System. Creating lighted space with heated zones for gathering, talks, performances and ceremony.
Phase II Timeline
October 15 – Work day party in Ventura to get donations on the White Buffalo Bus fill any other vehicles;
October 15 evening – Celebration Party;
Wk. of October 24th – Convoy of the bus and other trucks from Ventura to Standing Rock, ND;
Arrive at Standing Rock October 28th
Complete Phase II early December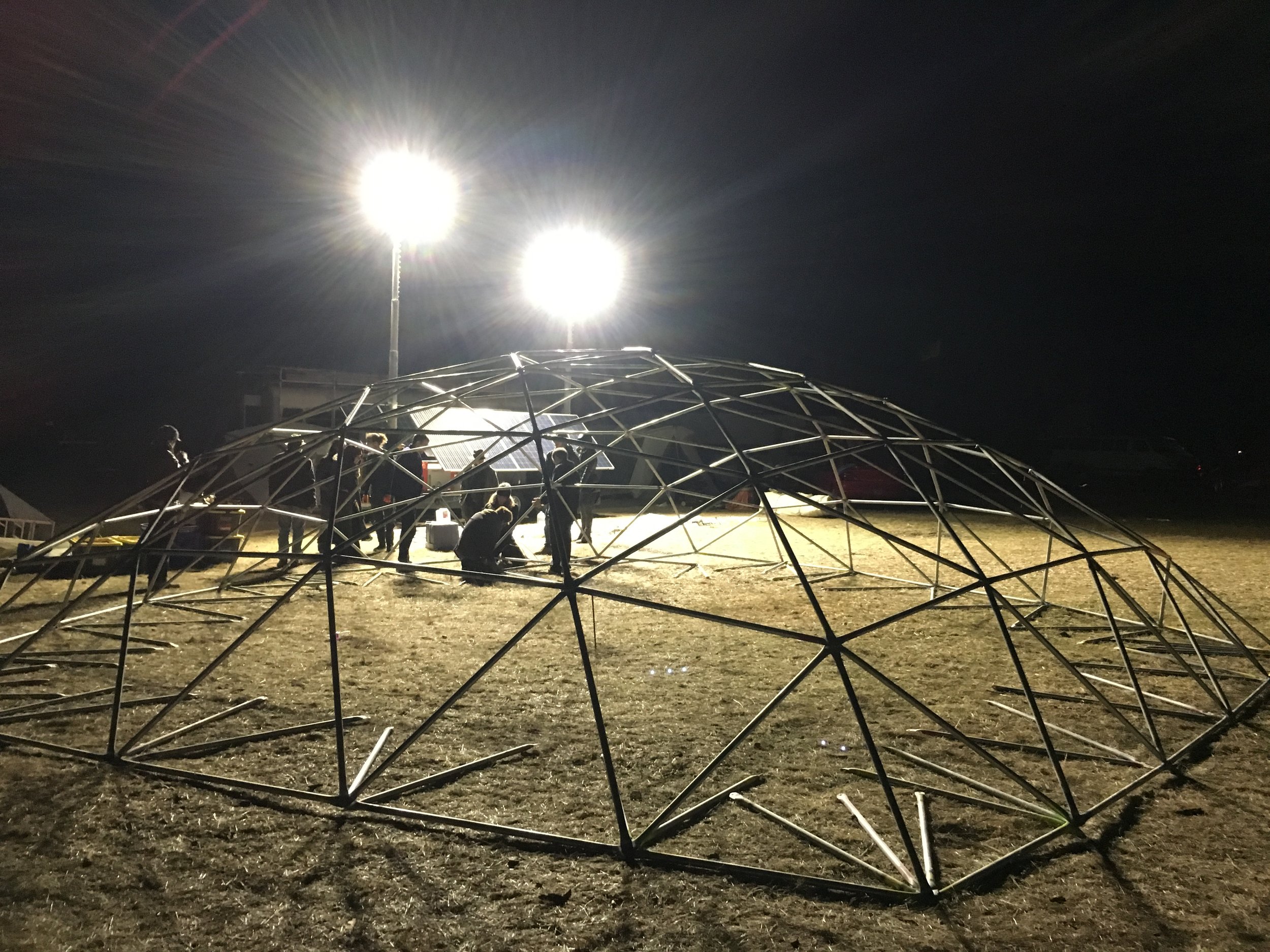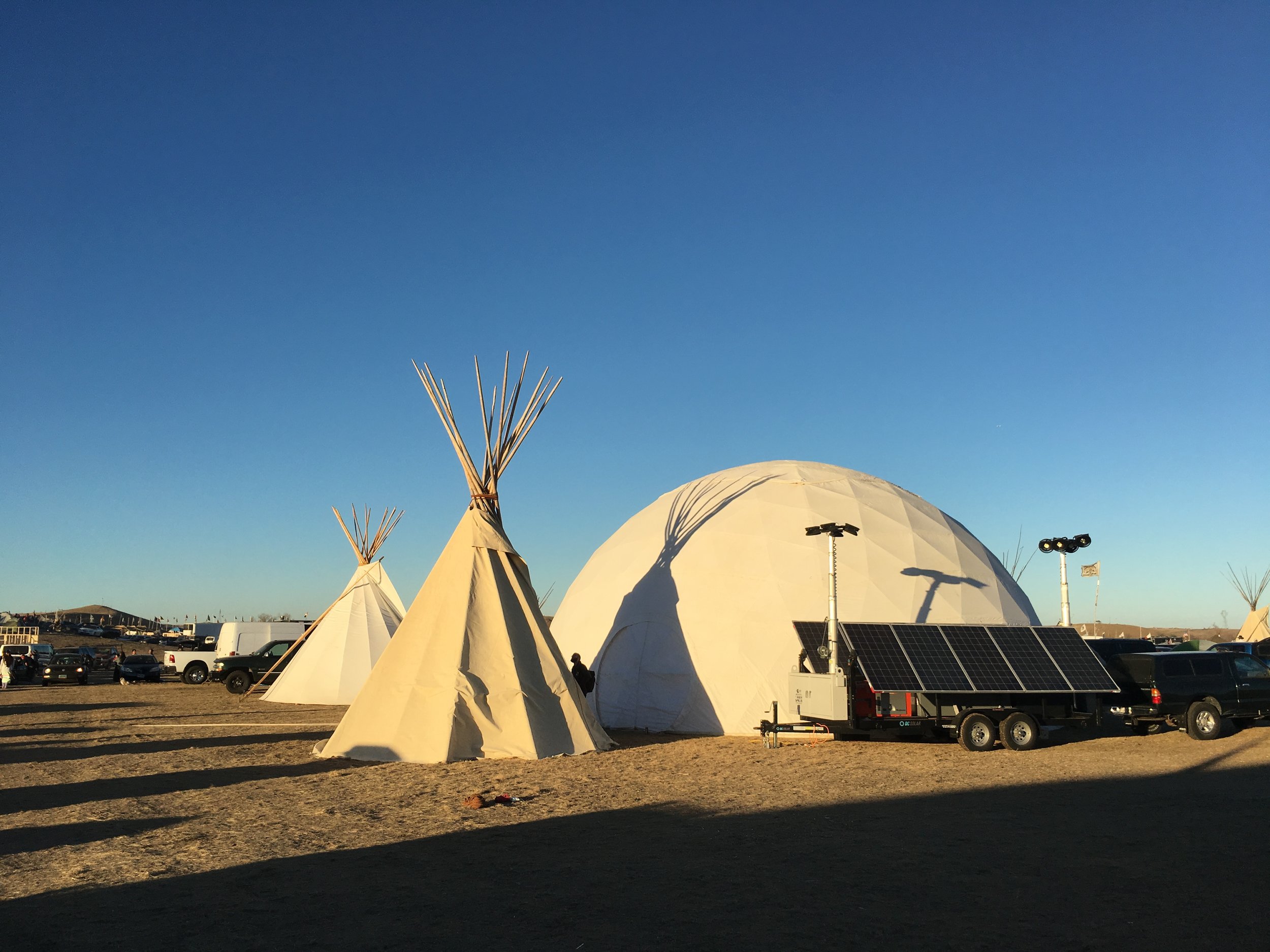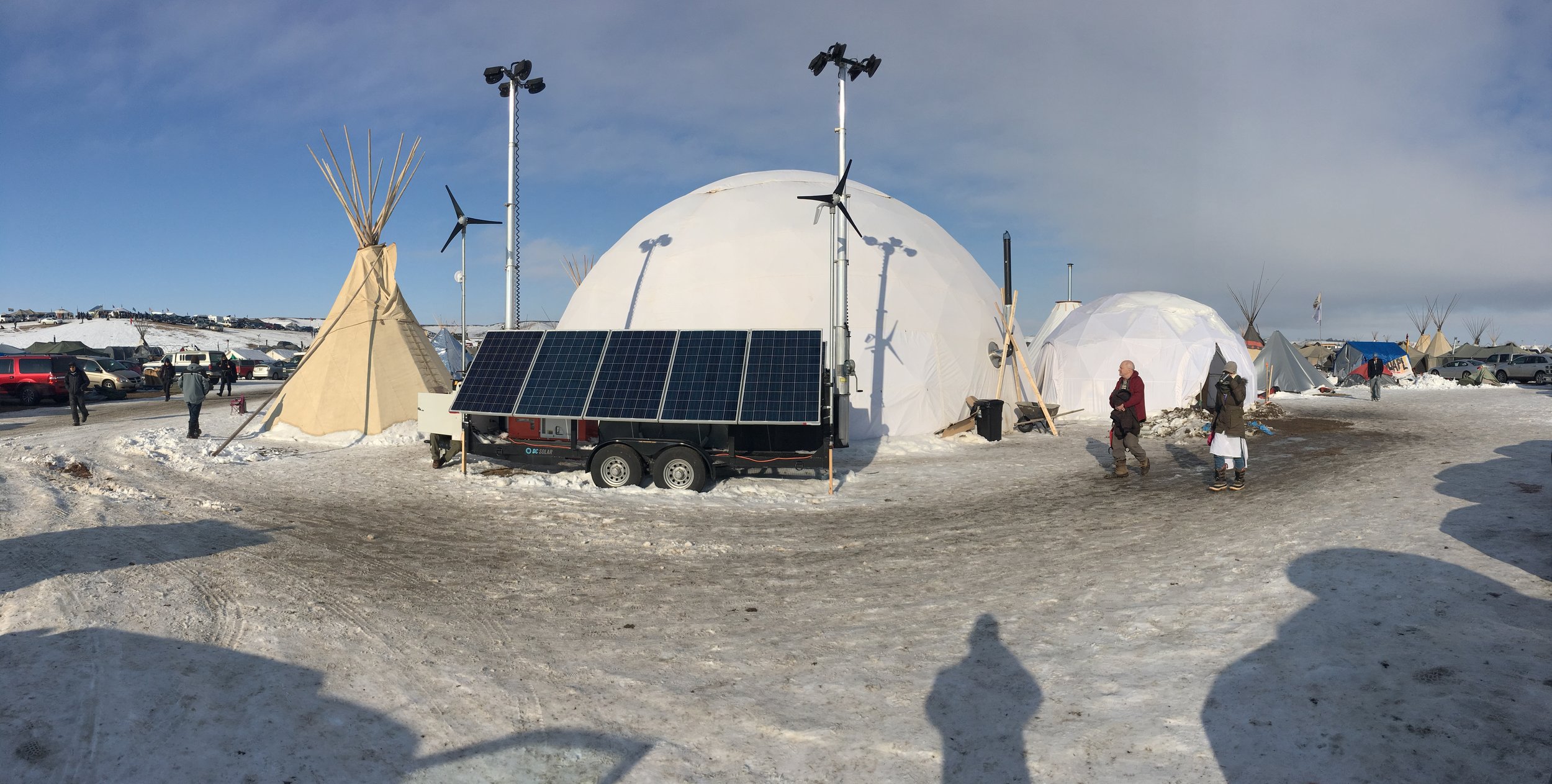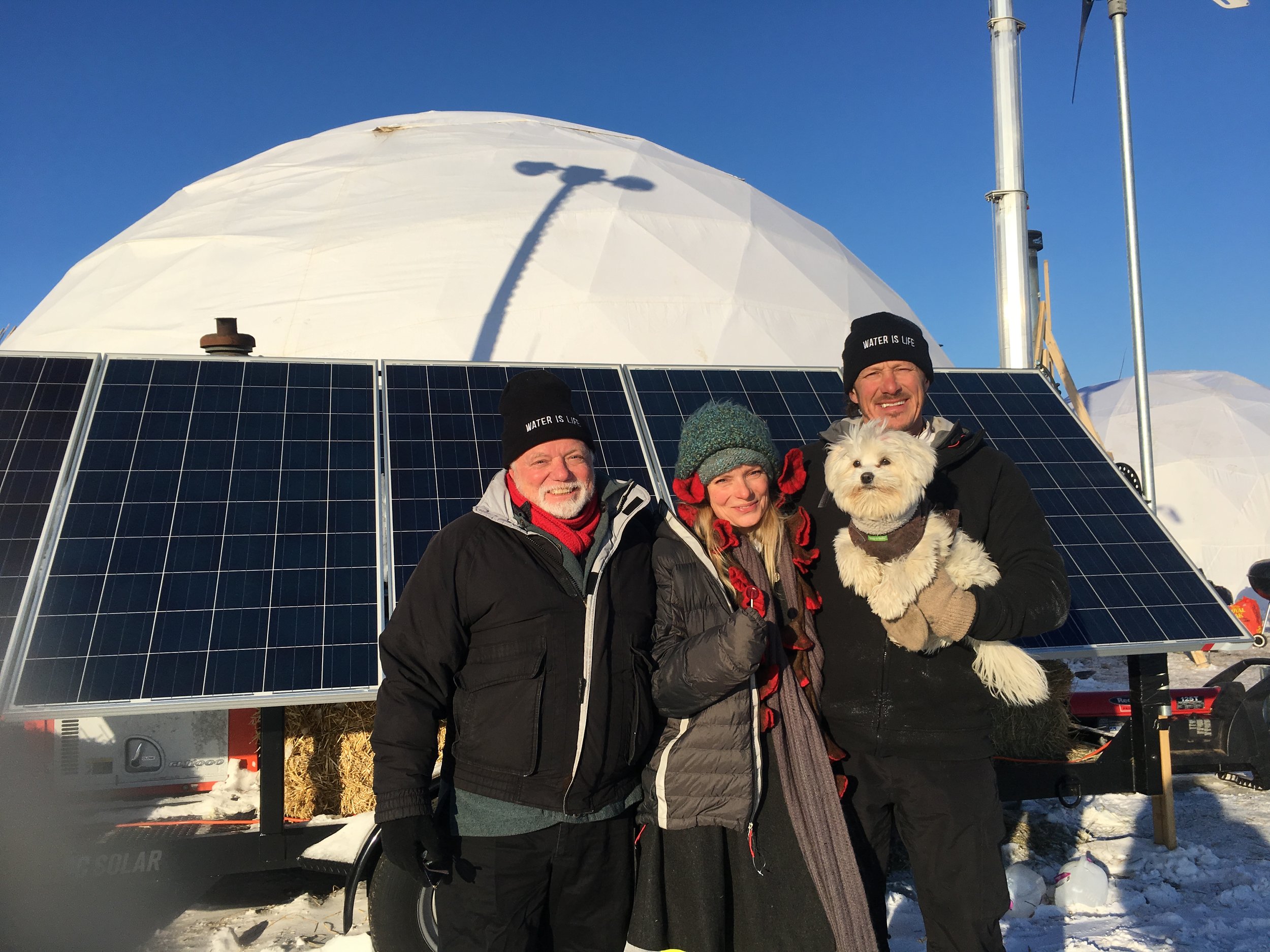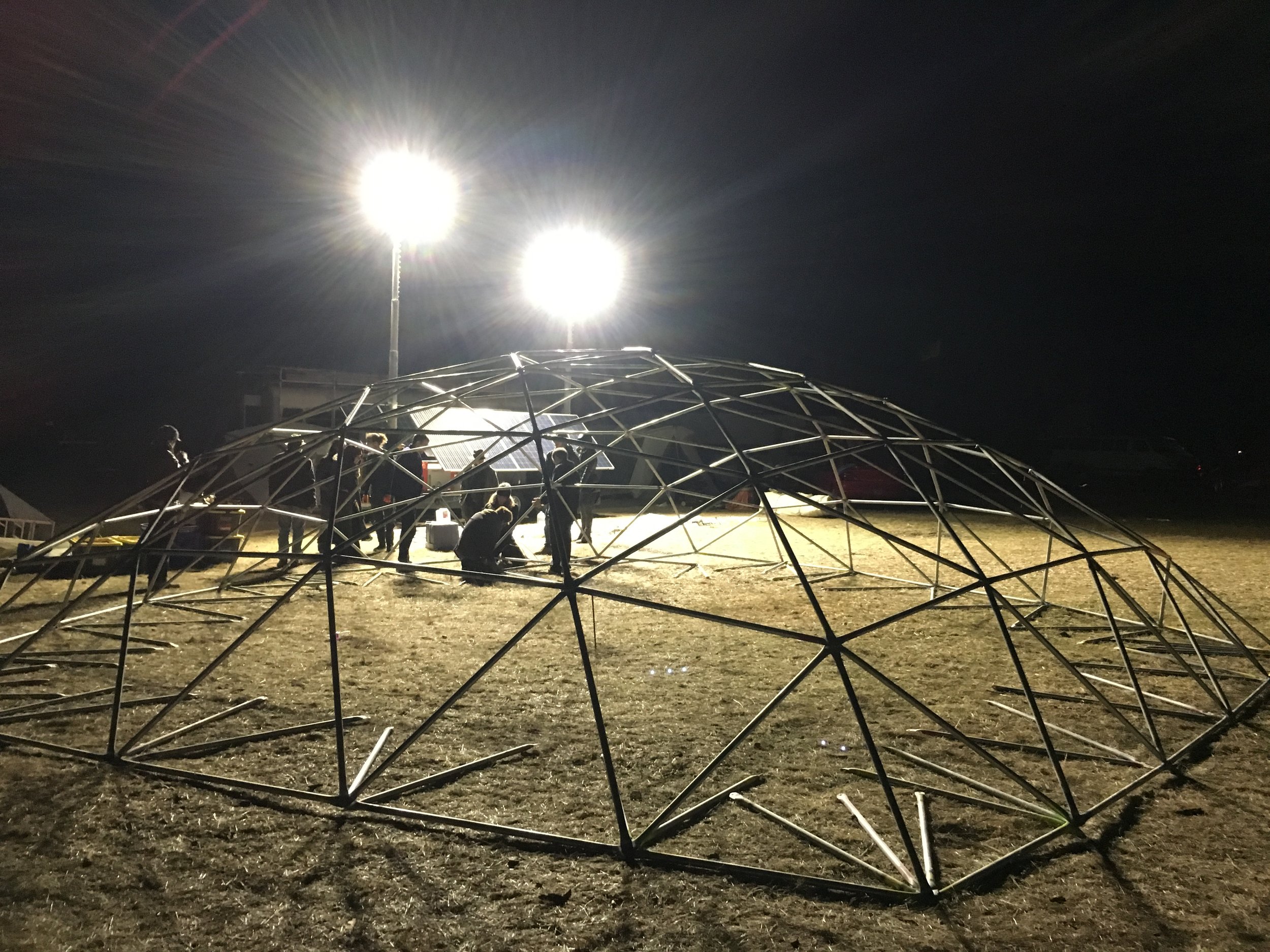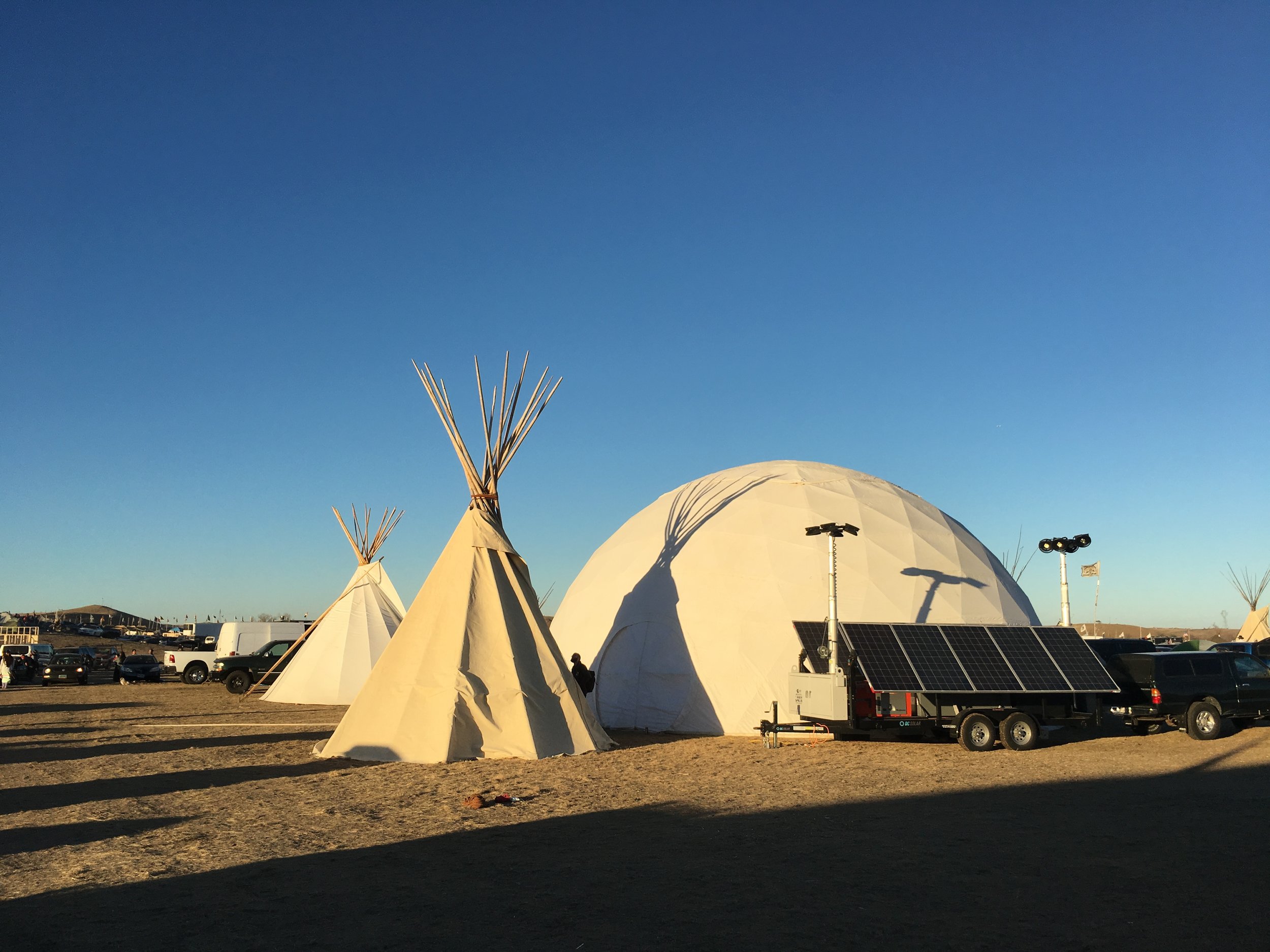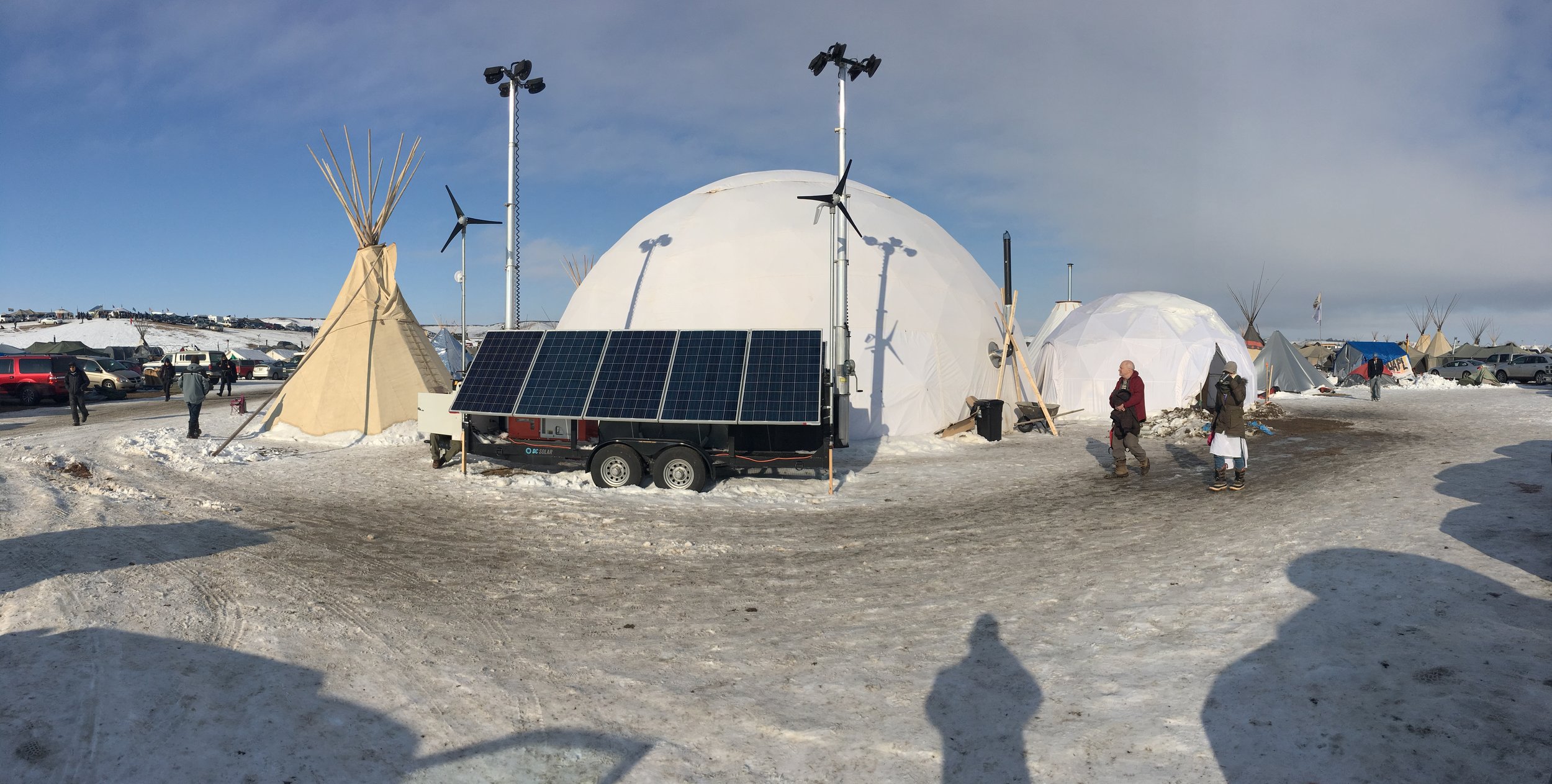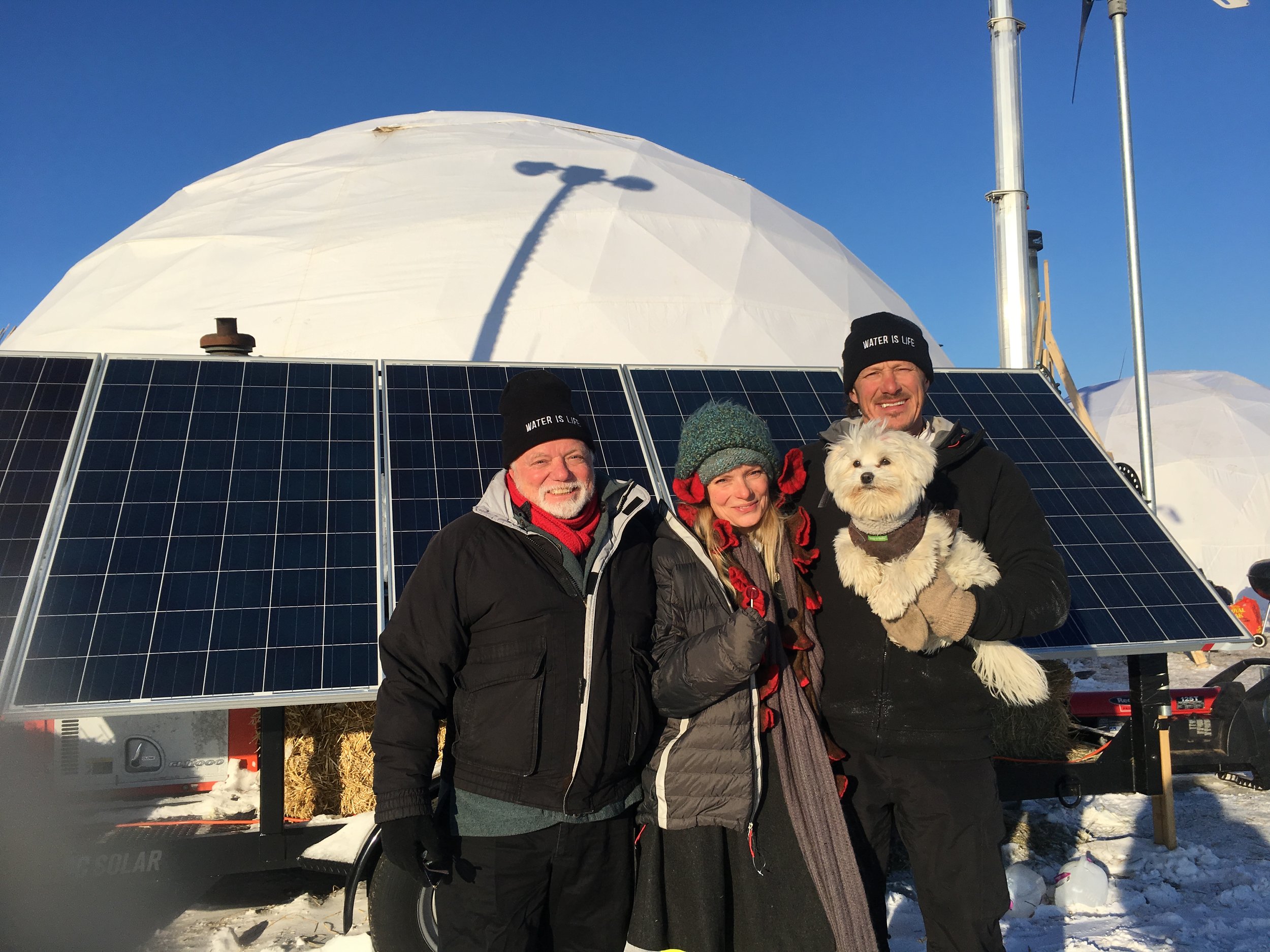 How To Support
To join in supporting our Phase II mission and creating the Red Lightning Village at Stand Rock, we request the following:
Donations for domes, teepees, solar power, infrastructure and transportation

Teepees, poles, skins, and liners

Winter Tents

Solar Lights and Chargers for electronics

Solar Panels and Inverters

Organic Food Non-Perishable
For questions, please email: standingrock@redlightning.org
Supplies: Send or Deliver before October 20:
Attention Red Lightning Studio Metta, 355 Harriet Street Ventura, CA, 93001
Donations:
Donations may be sent to Red Lightning via Paypal, wire or check. Red Lightning is a non-profit under the umbrella of Empowerment Works, Inc.
All donations are considered tax deductible contributions to a 501C3 charitable organization.
By Paypal:
Send your payment to: standingrock@redlightning.org
Please send as Friend and Family payment to avoid PayPal Fees
By Check:
Make your check payable to: Red Lightning/Empowerment Works.
Mail your payment to:
Red Lightning 28310 Roadside Dr Ste 120 Agoura Hills, CA 91301
By Wire:
Please email standingrock@redlightning.org for wiring instructions.
Direct Action:
Raise Awareness through network and social media
Call for the Army Corps of Engineers' to rescind the Dakota Access Pipeline permit
Call the White House at (202) 456-111 or (202) 456-1414
Sign the White House petition: bit.ly/StandingRockWH
Call the Army Corps of Engineers (202) 761-5903
Call North Dakota governor Jack Dalrymple at (701) 328-2200
Call or Email your Congressional Representatives and Senators
Support the Standing Rock Camps with Contributions
For more information about Oceti Sakowin/Seven Council Fires Camp list of items to Donate: http://www.ocetisakowincamp.org/
Donate items to Sacred Stone Camp http://sacredstonecamp.org/supply-list/
Tell the Executives of Energy Transfer Partners, L.P. to stop building the pipeline
Lee Hanse, EVP (210) 403-6455 Lee.Hanse@energytransfer.com
Glenn Emery, VP (210) 403-6762 Glenn.Emery@energytransfer.com
Michael (Cliff) Waters, Lead Analyst (713) 989-2404 Michael.Waters@energytransfer.com